A Boutique Retreat
just off the Bowery
The Leon Hotel draws its inspiration from the pioneering spirit of Leon Moisseiff, renowned civil engineer of the Manhattan Bridge, the first suspension bridge to use a Warren Truss in its design. Leon's innovations were later applied to the famous Golden Gate Bridge in San Francisco, CA. While you're enjoying scenic views of the East River, imagine all the people who have traveled between Manhattan and Brooklyn by way of Leon's 1909 landmark bridge.
Check-In: 3:00 pm | Check-Out: 12:00 pm
Free Wi-Fi
Early check-in*
Late check-out*
24-hour front desk
Baggage hold closet
Nearby parking lots
Local area attractions
Walk to restaurants & bars
Popular shopping district
*Upon request. Based on availability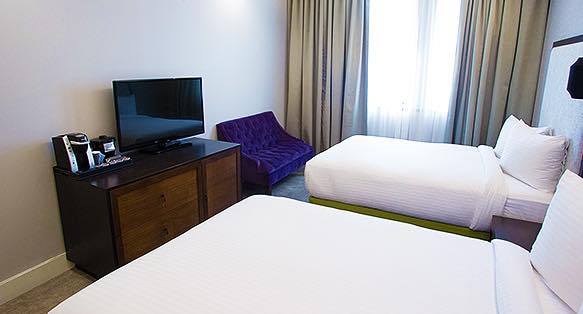 Hotel
Highlights
1. An Unbeatable

Location steps away from the Bowery

Our hotel's central Lower East Side location is within easy walking distance of many of New York City's most famous attractions, as well as one-of-a-kind shops, top-rated restaurants, and lively bars.

2. Spacious

Guest Rooms & Stylish Suites

Unpack and unwind in one of our spacious guest rooms or stylish suites. With ample room to relax, plus all the amenities of home, our modern boutique hotel provides the ideal retreat between big city adventures.

3. The Best Views

of the Manhattan Bridge

Boasting spectacular views of the World Trade Center, Lower East Side, and iconic Manhattan Bridge, The Leon Hotel offers scenic daytime and nighttime cityscapes that make for long-lasting memories and envy-inducing photo ops.